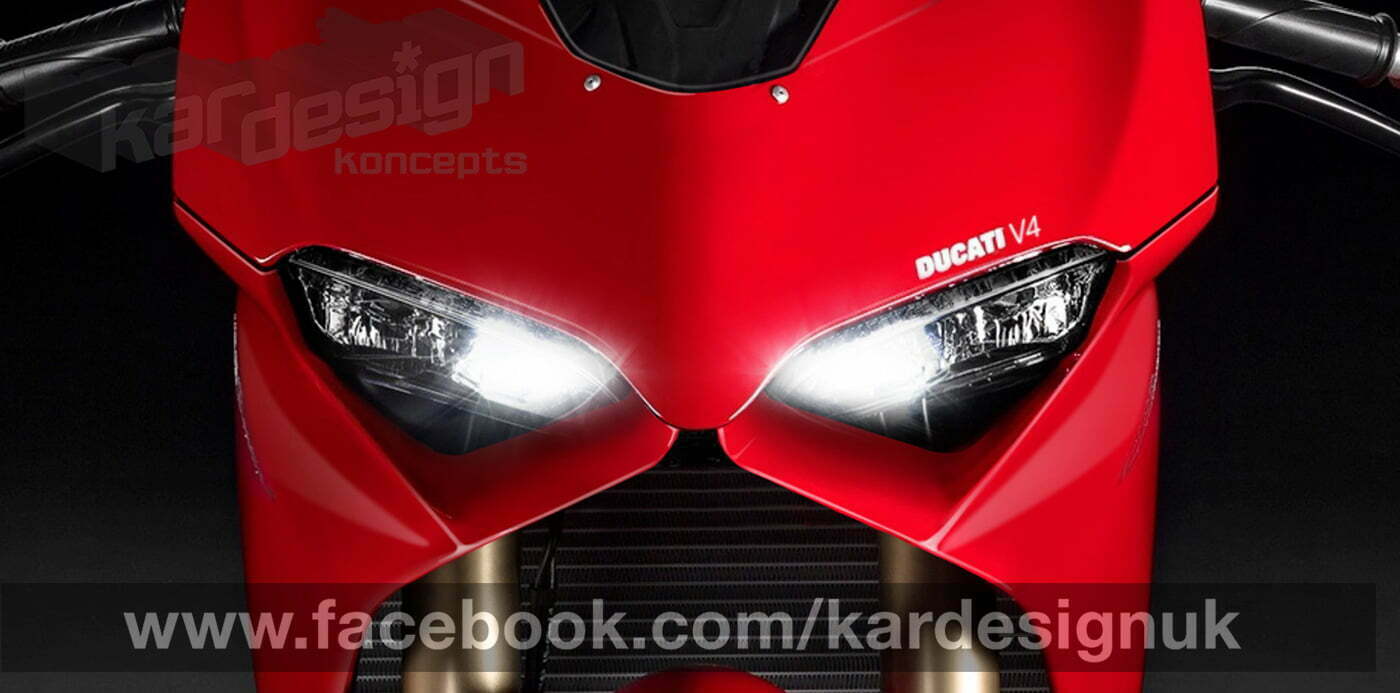 This is the first clear image of Ducati's new V4 superbike, acknowledged to be officially unveiled later this year. Generated exclusively by Kardesign from the numerous spy shots of the prototype in action currently doing the rounds on the internet it offers a tantalizing glimpse to what we have to look forward to.
Ducati currently enjoy much road and race success with the L-twin Panigale range but engineers are starting to reach the performance limits of the twin. With priceless lessons learned from their V4 in MotoGP and the complete sell-out of the 1500 production run of £40,000 Desmocedici RR V4 road bikes in 2007, the new engine configuration has been on the cards for a long time.
Spy shots have emerged this week showing off the bike in testing and at initial glance it looks just like any other Panigale prototype. Closer examination reveals subtle changes to the fairing and while it's not absolutely clear it looks like the tail unit will differ too. Wheels, forks, brakes and swingarm look like they come straight off the existing Panigale though the rear shock has moved from its current horizontal position on the left-hand side to a more conventional vertical arrangement behind the rear bank of cylinders. This rear bank appears to be canted backwards a few degrees, hinting that it is more of a "V" configuration than an "L".
Showing the smaller headlights and re-profiled, cleaner-lined front cowl, the new V4 is likely to replace the current L-twin Panigale in 2018, though the current model will probably be phased out slowly while the twin continues in WSB for next year.
Look out for a full rendering of the bike in Motorrad magazine
Follow Kardesign on facebook for more.
All V4 renderings copyright Kardesign
For a link to all the spy shots click here