The Suzuki Hayabusa needs little introduction, so I'll keep it brief. The title of "World's fastest production motorcycle" was well and truly started in 1990 when Kawasaki unveiled their ZZ-R1100 (or ZX-11 as it was known in the US). With a top speed of over 170mph thanks to 134 howling horses lurking inside the inline-four it set the benchmark for six years until Honda came along with the CBR1100XX Super Blackbird. With an additional 30 bhp on tap it was propelled a few mph faster than the ZZ-R to sit on the top speed throne for all of 3 years.
Then in 1999 it became an ever-decreasing dot in the mirrors of the 1299cc Suzuki Hayabusa. Not only was it quicker than the Honda but it delivered its 190-odd horsepower with a raucous energy and attitude that made the Blackbird seem tame. I remember my first ride on one in 1999. I worked on a motorcycle magazine at the time and my task for that day was to ride the bike to another sister title 30 miles away. I still recall the moment the road opened up into two lanes; I twisted the throttle to see what the hype was about and held on for dear life. I laughed so hard and whooped so loud and the sheer craziness of the accelleration.
Nine years later in 2008 Suzuki upped the ante again with a claimed 195bhp update to keep it near the top of the speed stakes pile. It would be 13 years later before the third generation Hayabusa appeared in 2021 – was it worth the wait? For a lot of people, it wasn't. The 2021 update made less power and torque, but what it lacked in pure bragging rights it makes up for in rideability and refinement. Modern rider aids and a power delivery that just surges the bike forward at the whiff of throttle. The styling update made all the right noises too with a sleek sophistication that does justice to the Hayabusa timeline.
But for those people who were expecting a radical 3rd gen Busa to shake the world yet again, they were left short-changed. Suzuki had taken the safe option. Where was the eyeball-popping power figure? Where was the love-it/hate-it styling? Where was the celebration to biking outrageousness and excess? Largely absent. Missing in action. The Hayabusa was now almost sensible, in a climate of 1000cc sportsbikes making over 200bhp it's deemed underpowered by many Busa fans.
I've been tinkering with Hayabusa digital concepts for the last ten years for various magazines but last year something happened that brought the Busa back into my field of vision. Richard Albans from TTS Performance has been supercharging Hayabusas for over 20 years with huge success. His typical road-going Busas make around 360bhp, and being an extremely knowledgable and reputable engine tuner he's built loads of them for many a happy customer, and what he doesn't know about supercharging motorcycles isn't worth knowing. He was on the phone asking me if I could help him tweak the design aesthetics of his next one – a 3rd gen model. But it needed a slight restyle to show it was different to a stock bike. That included paintwork and… wings.
He wanted to build the Hayabusa that hardcore Busa fans were hoping for, but taken even further. I nicknamed it SuperBusa and the name stuck.
After many months working on the project in secret the bike is almost ready to show to the public. Motorcycle News came over to TTS Perfomance to exclusively cover the story so far and the SuperBusa made their cover story in the 17th August 2022 edition. The headline states that TTS are "building the Hayabusa that Suzuki wouldn't", and they're absolutely right. It's a great write-up and reading it brings it all home that SuperBusa has come such a long way since being just a few pixels on my screen and a twinkle in Richard's eye. It's very, very real.
The bike is still in development but so far it's making 372bhp and 190 ft/lb of torque. I've been lucky enough to take it out on the road briefly – at the time of writing this I'm the only person to do so. But that's a story for another time…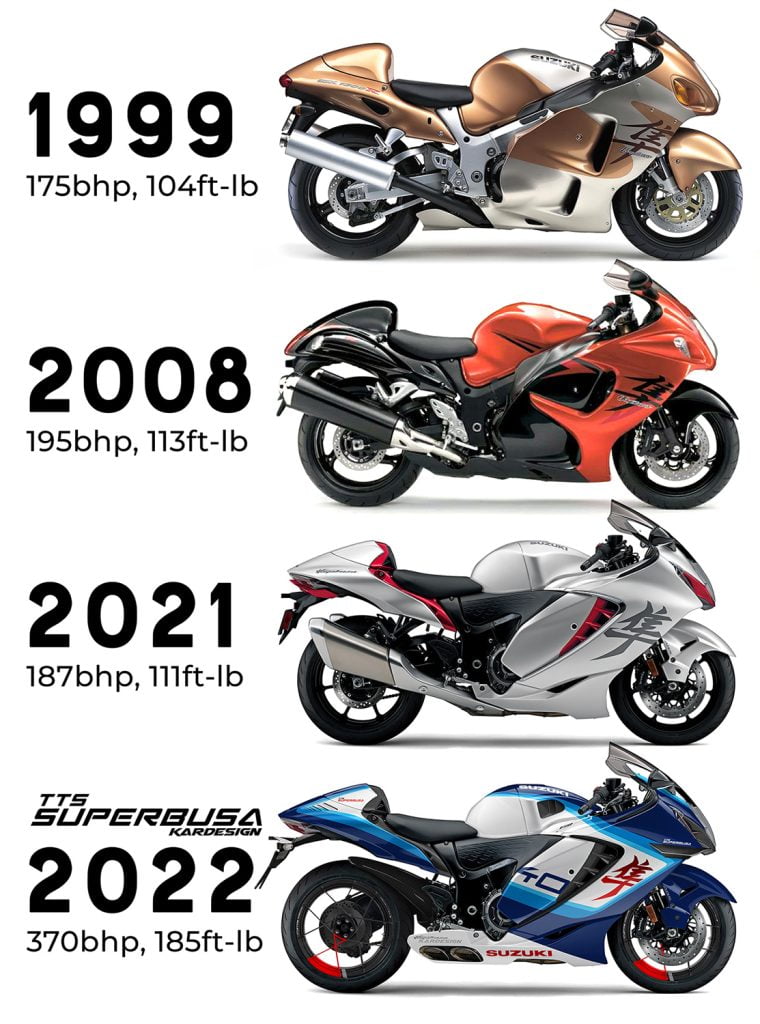 The plan is to build 40 of the bikes. Each one will be made to order and individually numbered. SuperBusas are fitted with Rotrex C30-94 superchargers, Rotobox carbon fibre wheels, single-sided swingarms, bigger brake discs, upgraded suspension, strengthened engine internals, and an intercooler amongst other items as standard. There will be add-on options too, including bespoke paintschemes, rearsets and further suspension options. Prices will start from £45,999.
Meanwhile, enjoy the photos, the bike will be revealed to the public in all its GSX-R Slabbie-inspired livery at the TTS 40th Anniversary Bash at the Super Sausage Cafe in Silverston on 20th August 2022.
For more info: https://www.tts-performance.co.uk/
Follow the TTS SuperBusa facebook and Instagram pages: