If you're looking for an adventure bike to cover the miles yet remain comfortable through the challenges of the urban jungle, the TDM1000 koncept is all the sports utility vehicle you need.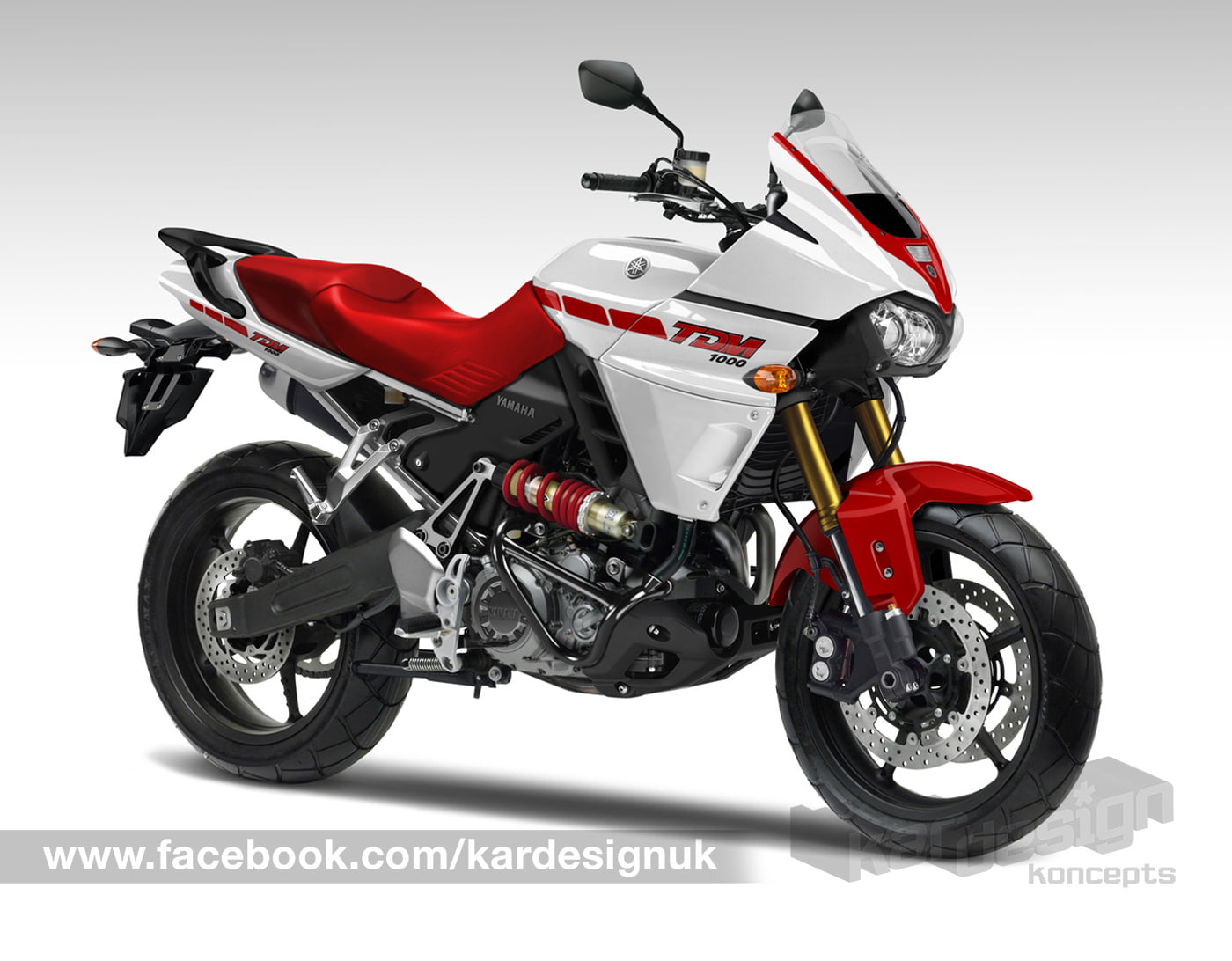 Long before the Ducati Multistrada, Yamaha gave us a utility bike with V-twin characteristics that was just as much at home in the city as a courier workhorse as it was loaded two-up for touring. The bike became a best seller in Europe and has only recently been superceded in the Yamaha range by the 847cc triple cylinder Tracer 900. It's a decent ride but if Yamaha had stuck with a twin we might just have something like this…
The original 1991 TDM motor while reliable, wasn't the most thrilling of powerplants. That all changed in 1996 when it received a 27° firing order donated from the TRX850 which resulted in a lumpier power delivery, much like a V-twin. The final 2001 update saw a capacity hike to 897cc and a claimed 74bhp. We reckon a jump to the litre class will give us an easy 95bhp and more importantly, a healthy 70 ft-lb of torque. Taming mountain hairpins and hoisting big wheelies has never been so easy.
The steel tube frame is a fusion of MT-03 and the XTZ1200 Super Tenere's with the rear shock running alongside the engine to help centralise the weight and easy adjustment to boot. Long travel forks from the XTZ get the radial brakes from the R6 and 5-spoke wheels are a hybrid mix of R6 and MT-03. Engine bars are standard fitment in preparation for any tumbles or zombie apocalypse. Headlight grilles, camouflage paint and spotlights are in the accessory catalogue.
Heading off-road is unlikely for most adventure bikes and this is unlikely to break that trend though that's not to say it isn't capable with its big suspension and flickable nature. Twin headlights blaze a path while the bodywork is a nod to the purity of the 1991 design with a few modifications. Directional vents allow warm air from the engine to be channeled towards or away from the rider. Fancy a loaded-up dirty weekend?