A world first peek at what the final production version of the Streetfighter V4 could look like.
Words & renderings: Kardesign
Front and side view photos: Ducati
In stunning new images created exclusively by Kardesign, we can show what the production version of the Ducati Streetfighter V4 will likely resemble based on the official Ducati photos of the Streetfighter V4 prototype released yesterday. Set to debut at the Pikes Peak International Hillclimb event later this month, the prototype's form is hidden under layers of garish graphics, designed to disrupt a clean view of the bike.
However, with the power of modern technology, a little imagination and a some Photoshop wizardry we have stripped away the distracting livery of the prototype to show a clearer view of what the bike looks like underneath, and the sleeker lines of this new generation Streetfighter are plain to see.
The fuel tank, front mudguard and tail unit remain essentially the same as the Panigale V4s, as does much of the chassis components from the Panigale V4, including the wheels, brakes, suspension and even the engine cases. What's likely to be different internally is the expected power re-tune in favour of a more useable mid-range and lowered gearing.
What is obviously different though is the sidepanel that connects the fuel tank to the radiator cover, plus of course, those winglets that have found their way from the V4R. Whether they'll be on the final production road bike remains to be seen but we've included them here. What's also new is the scaffolding and various panels needed to mount those winglets on, and the bellypan.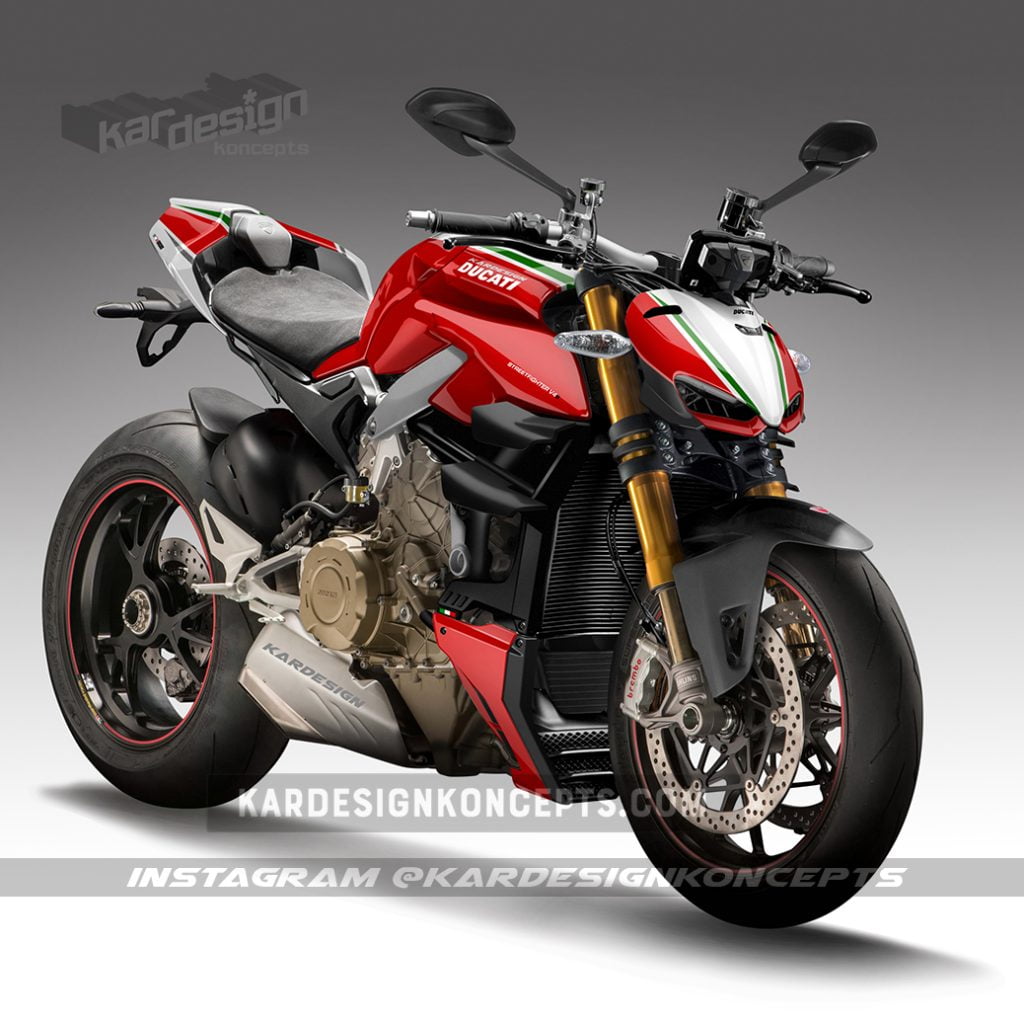 Finally, the front cowl and clocks are new, with the former firmly divided opinion online, with some highlighting the resemblance with Kawasaki's bug-eyed 2014 Z1000. It's not known where the headlights will be situated but our best guess is similar to the Panigale V4 – inside the air intakes. It's possible it could end up with a single central headlight as a nod to the original Streetfighter, and as more information comes to light we'll update our rendering.
Want to see more? Check out our video below.
JOIN THE DISCUSSION!
Kardesign Koncepts on Instagram
For usage rights, contact us