It's been over twenty years since Yamaha gave the world an R7 but it looks like that's about to change with news of a new model in the pipeline, with the filing of a registration in the USA of the title YZF-R7.
It's expected to be revealed early in 2022, or possibly even later in 2021.
1999 was the year Yamaha revealed their WSBK homologation racebike, the beautiful YZF-R7, codenamed OWO2. Built to compete against the Ducati 996s, Honda RC45s, Suzuki GSXR750s and Kawasaki ZX-7RRs, it came closest to winning the championship in 2000 with Noriyuki Haga on board but a failed drug test saw Haga miss out on the final round at Brands Hatch, sabotaging the title for him on the #41 Yamaha.
Only 500 production R7s were built at £22,000 each, which at the time which was a lot of money. Strangely, they didn't sell that well in the showroom when launched – they only made 106bhp as standard – barely more than the R6 which was also launched that same year, and a lot less than the R1. Added to that, at first glance it was easily mistaken for the smaller R6, and who wants to buy a 750 that looks like the 600? Race kits were available of course, and these bumped up the power to 160bhp. Some dealers at the time were reported to have discounted them to £15,000 just to get them off their showroom floors. Today, though, they're very much an iconic bike in high demand (and low supply) and you'd be looking at £25 – £30,000 for a used one.
It's not surprising though – they're fantastic bikes to ride, beautifully balanced and even with just over 100 horsepower they produce substantially more torque than the R6 making them easier bikes to ride. Imagine a modern day R6 with more power and you're part way there.
Which brings us to 2021. Yamaha's filing of the YZFR7 name got me thinking – what would a new R7 – or R-07, look like?
It's almost certainly going to use the MT-07 parallel twin engine as the 689cc capacity that's been filed is exactly the same as the MT-07s, and although it's well down on power making just 74bhp instead of the old R7's 106bhp, it does fill a gap in the market for a low-budget, sporty parallel twin. And when I say sporty, think of the 2021 Aprilia RS660 – it makes 100bhp, but it also costs just over £10,000 and riders are loving it.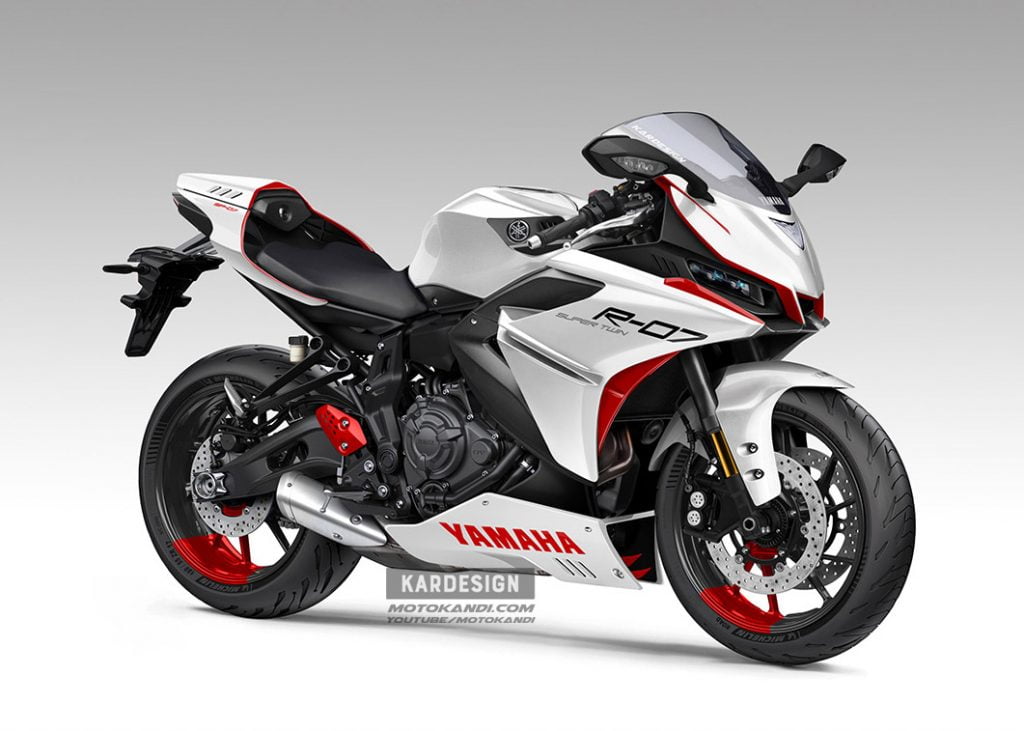 A new R7 / R-07… would probably undercut that price by quite a bit. The MT-07 comes in at just under £7000, so a sports version with a fairing would likely be nearer £8,500 depending on the amount of features Yamaha throw in as well.
If the target is 100bhp, then the MT-09 powerplant would exceed that by a healthy margin, but would carry the R7 brand with the extra power you'd expect. A four-cylinder R7 update would be a worthy replacement for the now-discontinued R6 too. Check out the video for all the images and a walkaround of a mint condition R7.
What do you think?
Leave a comment on Instagram or Facebook!
(Opens in a new window)